As you may know if you're a follower of my blog, last week I was on NYC for the FNO Polyvore meetup event.
I just returned today and spent all the day uploading the hundreds of pictures I took there, it was an amazing and surreal experience, since I got to meet part of the polyvore team that included Nadia, Chrystal, Jess, Eugenia and Lauren, and also the global polyvore members that came from places like France, Brasil, Chile and Canada.
I arrived on wednesday to Newark, where a driver on a limo was waiting for me outside the airport, then he took me to the Soho Grand Hotel in NY, one of the hippest and trendiest boutique hotels in NY, that afternoon I went shopping with Nicole (aka nikkeeb), we went to uniqlo, h&m, marc jacobs, acne, and a fabulous vintage store called What comes around goes around, and we also had the most delicious pretzel croissants ever! It was so fun and she was so lovely!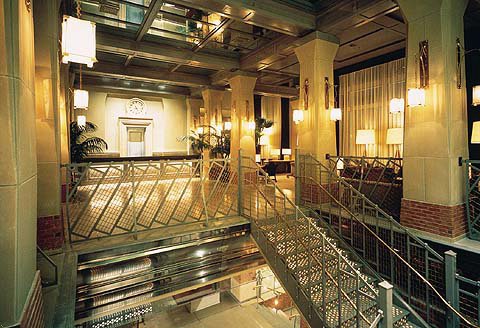 The Lobby of the Hotel
The wallpaper at the bathrooms (pic by Liberty London Girl)
The Woolite Washed Boutique getting ready for the night!
That night I also had dinner at Cipriani with Karine from Brazil, her husband, and Ashley from Canada but currently living in Florida, I had so much fun with these girls that really made me laugh. BTW, this place was packed with beautiful models, thin and tall and gorgeous girls lol!
On thursday I woke up early to get ready for the big event, we had brunch at the hotel and met all for the first time, it was so great to see the faces behind the sets. Then we got two bags full of gifts, shoes, jewelry, sunglasses, gift certificates, clothing and much more! Thanks to all the sponsors for taking the time to choose our gifts.
I took this one before going to the brunch, I spent hours drying my hair but had to make a bun because it was really hot and humid.
Everyone opening the gifts and of course I was taking pics!
yummy!
With Karine from Brasil, my fashion sister!
Essentials on my bag, my iPhone, wallet, notes and my polyvore tag.
At this time we got to present ourselves and share a little about our personal life as our Poly story, I have to share mine with you: I discovered Poly because two years ago I wanted to start an stationery business and I was looking for images to add on some cards, then I saw a website full of pictures and somehow I was making my first set, and then I received my first comment, and that was it, I was instantly hooked to this polyvore addiction, one that I share with my fellow polyvore friends, and truly something that changed my life.
Some of the gifts we received!
More gifts, thanks to many sponsors like Karmaloop, Fossil, Solestruck, Julep, Vichy, Asos, Wallis, The Body Shop, Moda Operandi, John Hardy, Boohoo, Boston Proper, Dorothy Perkins, Reiss , Free People and many many more!
So many gift cards too! Can't wait to start shopping.
A super cute note from the Karmaloop team.
I loved my John Hardy Dragon bracelet!
My new FNO tote bag by Brahim and my camera.
Then we went to blow to get our hair done, they received us with a glass of champagne, and I went for curly hair since it was really humid. We also received gifts there!
With Jess! CEO from Polyvore, she is amazing!
Again with Karine, before makeup.
With the sweetest Tabitha!
Gorgeous and super sweet Nadia from the Polyvore team!
More gifts from Blow!
Everyones shoes!
After that I went with Karine to the Mac Soho Store for a makeup appointment we made, I really loved the makeup that my dominican artist made, she was also really sweet and told me some makeup stories about Sofia Vergara and Lindsay Lohan ;D
I got back to the hotel to get ready, and when I went outside there was a white limo expecting us all, then we went to the Polyvore offices, where Jess and a professional photographer were waiting for us, it was really fun to see how the tourists take pictures of us, thinking perhaps that we were celebrities LOL!
All the girls ready to have fun!
Ashley, me, Melissa and Karine
On the limo with Karine and Mauricio
At the office we got to meet he NY team and we also checked out a new feature that Polyvore is working on (I can only say it's gonna be awesome!) and then we drink champagne, ate cupcakes and also made an interview in front of a camera.
Inside the limo!
At the Polyvore offices!
With the NY polyvore team.
Mauricio working on some sets!
We all went walking to the woolite event, and it was fun to see all the SOHO streets packed with people walking around on FNO, the stores had many celebrities and some of them were giving away gifts.
We arrived to the Woolite Washed boutique, where we met Cat Deely, host of So you think you can dance and Jacqui Stafford, celebrity stylist, she gave us great advice about the fashion field and how to achieve our goals.
The girls with Cat Deely.
karine and I
After many pics we went walking all around soho until we found a restaurant to eat, by this time my husband arrived to New York to spend the weekend with me, so I met him at the hotel and we returned to have dinner with everyone.
Then it was time to say goodbye, this was really a day I'll always remember, thanks Polyvore!!!